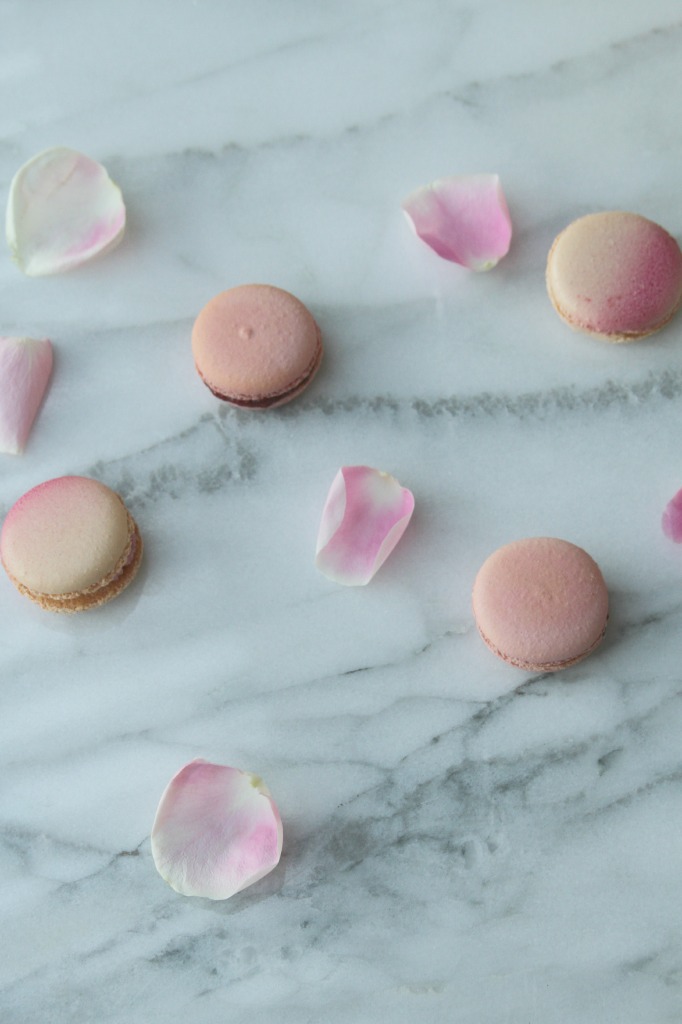 I can't be more excited for Valentine's Day to be here! It's one of my favorite holidays to spend with my loved ones (family and friends) and this year I get to spend it with someone I really love.  This year I'm planning a romantic candle light dinner for two and for dessert I'm topping it off with these french macarons! They are one of my favorite desserts.  Below I'm sharing my the recipe for these french macarons.
INGREDIENTS
3 Egg Whites
¼ cup white sugar (50 g)
2 cups confectioners sugar (200 g)
1 cup almond flour (120 g)
pinch of salt
¼ tsp cream of tartar (2 ml) * You can omit if needed, just may take a bit longer to reach stiff peaks but the recipe will still work)
RECIPE
Beat egg whites until foamy, then add salt, cream of tartar and white sugar for 10 mins until you create a thick, smooth peak.
Add in food coloring that you desire. I used rose colored gel to get this pink.
Sift almond flour, and powdered sugar together in a separate bowl to create a smooth and pretty cookie. Rid of the larger pieces of almonds.
Fold flour & sugar mixture into the egg white mixture together into you get a smooth batter. Transfer batter to a pastry bag with a round tip.
Pipe out 1 inch circles on a baking sheet lined with parchment paper. Then tap the pan hard at least 3-4 times to release all the air bubbles.
Let them sit out for 20-30 mins before popping them in to the oven.
Bake for 20-30 mins. It's important that you do not under-bake so that they won't stick to the baking pan.
While the cookies bake.  Mix the buttercream. Whip butter with an electric mixer until pale and fluffy. Slowly add powdered sugar. Then place sieve on top of a bowl the same size. Work raspberries through the sieve with a spatula, pushing them through, mashing them around until you extract their juice. You want 3 tablespoons of juice.Add juice to buttercream, and whip until combined. Transfer to a pastry bag, fitted with a small tip (about ¼ " in diameter)
Reverse cookie shells on their backs, and pipe a small mound of filling on one of them. Top with the other shell.
Below are a few things that you can purchase to make this recipe come to life! Place on a dish and serve to your sweetheart!