Disclosure: This is a compensated campaign in collaboration with Latina Bloggers Connect and The AllState Foundation. All opinions expressed are 100% my own.

For those of you who do not know… October is Domestic Violence Awareness Month. Domestic violence is an issue that impacts millions of women across the country, but few talk about it. It happens more than 145 times each hour in the United States.  That's one too many times.  As an advocate to end violence against women, I know that most people would agree that it's an extremely  sensitive subject to talk about.  That is why I am so excited to share The Allstate Foundation's Purple Purse campaign with everyone.
PurplePurse.com is an online resource for women, it's designed as an online shopping magazine, but its real purpose is to encourage people to talk openly about domestic violence as well as financial abuse. Lacking financial knowledge and resources is the number one indicator of whether a domestic violence victim will stay, leave or return to an abusive relationship. Research shows that the issue of domestic violence is difficult to discuss, and this site was created to make it easier for women speak up without shame or fear. Domestic violence affects one in four women in their lifetime – that's more women than breast cancer, ovarian cancer and lung cancer all combined. The website contains valuable information and resources specific to the issue of domestic violence, including conversation starters, ways to spot signs of abuse and financial empowerment tips. The most important thing for victims to know is that they are not alone and that there are many types of abuse – not just physical.
I want to let you in on a well-kept secret: Domestic violence doesn't discriminate. It happens to people of all races, genders, religions and income levels — likely right in your own community. Likely someone you know. Don't let them become a silent statistic.  I personally know women in my very own life who have struggled through domestic violence and overcame it. This is why I am taking a stand in the campaign. NO person should be a victim of domestic violence.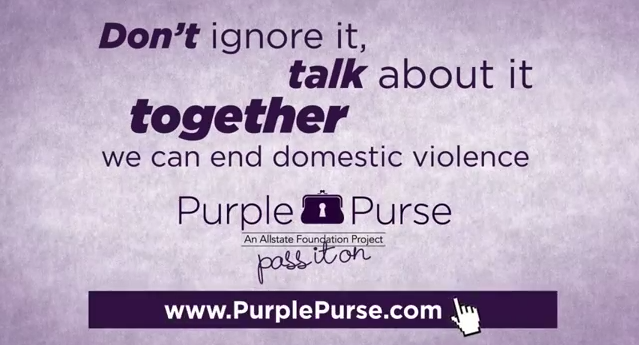 Now I'm asking if you can please spread the word about the Purple Purse campaign. Talk about domestic violence. Share your story if you have one. Listen to the story someone else has to share. Get a dialogue going in the hopes that we can somehow in some way bring down that horrifying number of one hundred forty-five women every hour.
Let's pass on the Purple Purse. You can get involved and raise awareness for domestic violence by sharing virtual purses. For every purple purse passed through the end of October, The Allstate Foundation will donate $5 to YWCA. They will give up to $350,000 for programs aimed to help domestic violence survivors and stop the cycle of abuse!  All you need to do is visit www.PurplePurse.com and enter the  purse code 0003  along with your zip code.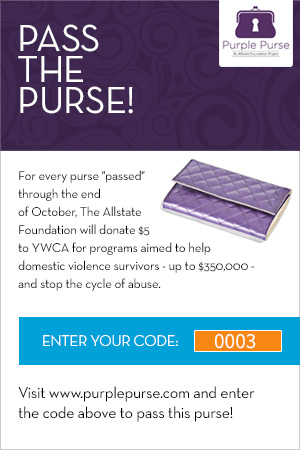 Be sure to join Latina Bloggers Connect and The AllState Foundation for a Twitter Party on October 9, 2013, to talk about Domestic Violence Awareness Month and spark important life-changing conversations! For more information visit Facebook or PurplePurse.com!