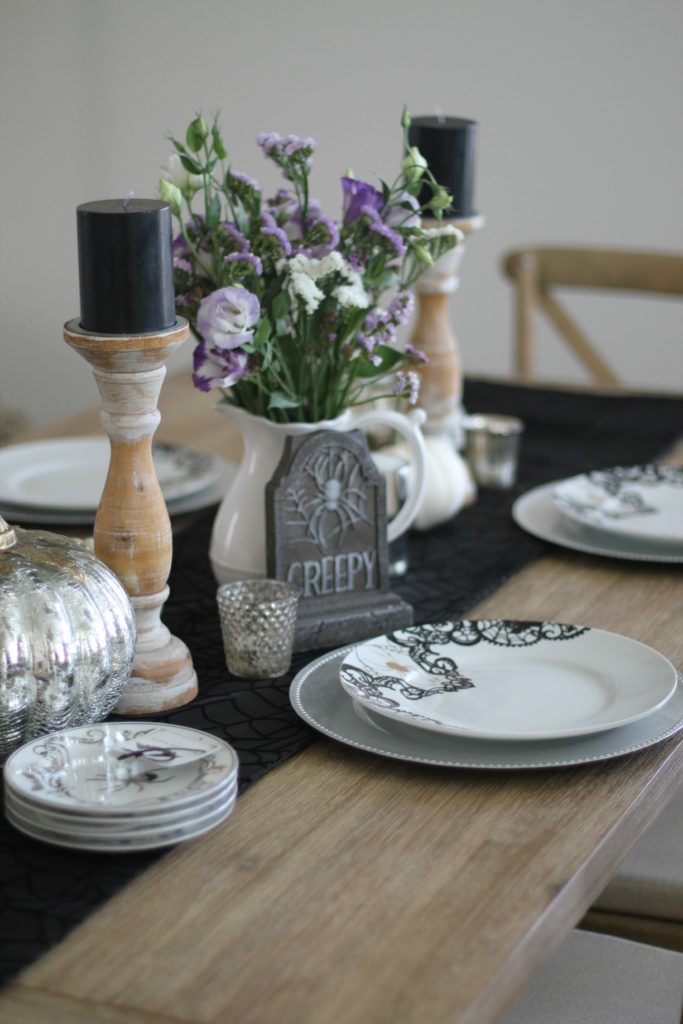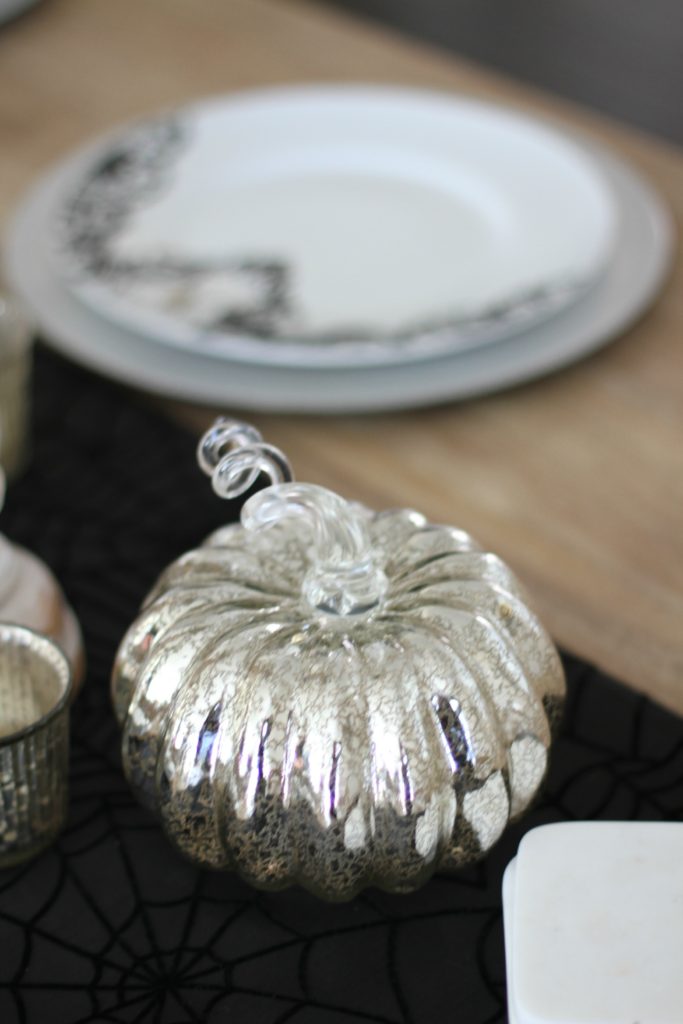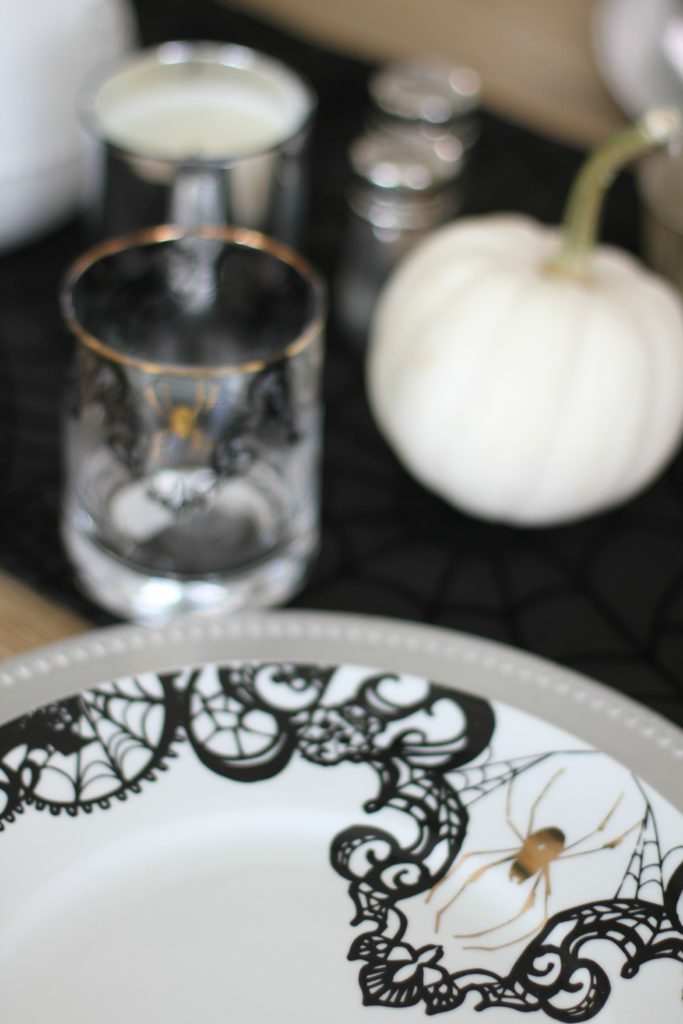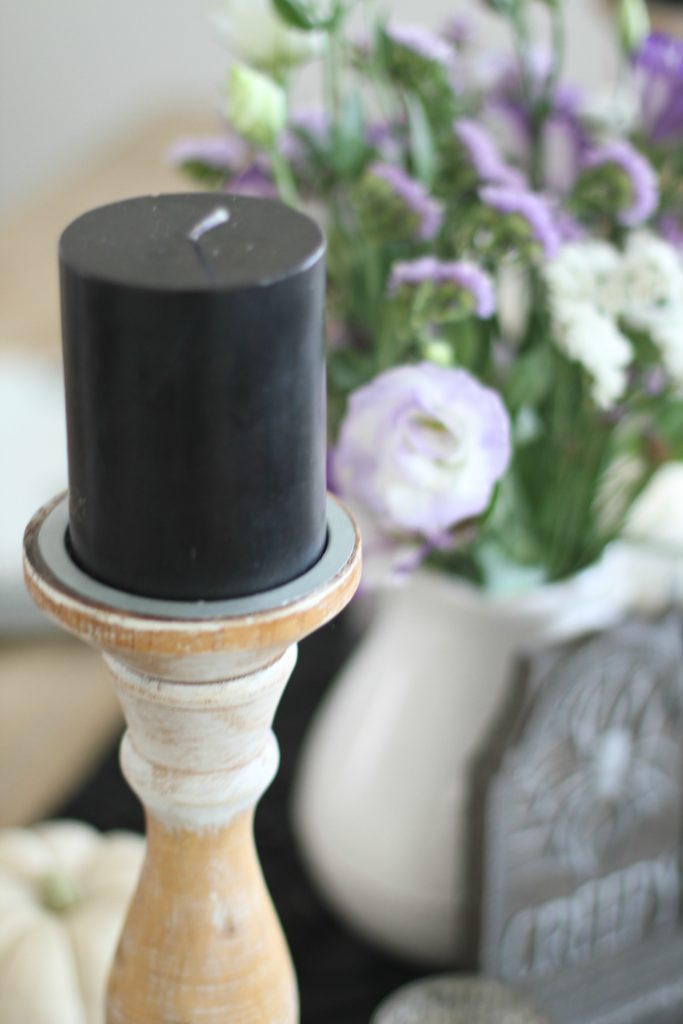 As some of you MIGHT already know … Halloween is one of my favourite seasons to decorate for. It's a pretty special day for me, given that it's my birthday! I always try to make it really special no matter what because I'm celebrating the day I was brought into this world along with all the spooky witches and ghouls! Since it's officially October I started decorating my home. I started with our dining room table since it's the focal point of our entire downstairs. We have an open concept room downstairs and the dining table divides our living area and kitchen so I wanted to make a grand statement with our dining table for Halloween. Plus it's the one place that I love to decorate and entertain. So whether you have a glass dining table or a wooden table, you can decorate it whatever way you want, as long as you are in the Halloween spirit.
I love decking out the house and mixing gory items with pretty/dainty pieces. Don't get me wrong, I still like to keep my pallet quite neutral and white while making the theme of Halloween shine through. Follow along below for 5 tips for decorating your dining table and making an amazing Halloween tablescape this season …
Tip #1: Start by laying down a Halloween themed table runner or tablecloth. I love adding one to my table for a pop of color. I also like opting for something black with spider webs. This one from World Market is so cute, I might add that to my table also.
Tip #2: After I lay out my table runner I like to add a focal point with some height so… of course I choose some flowers. I picked up some beautiful blooms at our local farmers market and I opted for purple since they had a variety of them and add to the theme of Halloween.
Tip #3: I like to mix and match some of my pieces that I already have with some that are interchangeable. My mercury glass votive candles are on my table year round and to add to them I found these beautiful Mercury Glass Pumpkins that set the tone for my table.
Tip #4: If you're having guests over, make sure you have appropriate items to eat and drink out of like this the serve ware I displayed. I ended up miraculously finding the exact dishes that matched some goblets I had bought a few months ago and I'm excited to serve food on these plates.
Tip #5 If you are making food get creative, last year my mom and I toped gummy worms and crushed Oreos on cupcakes along with candies eyeballs and black & orange sprinkles. We also made cute lychee eyeball martini's and stuffed lychees with blueberries for the eyeballs, and since it's my birthday no Halloween goes without a cake. We had one of our favorite bakeries make a spiderweb cake from melted marshmallow and toped it with a cute spider. It came out amazing!
Remember it doesn't have to be perfect Halloween is about beeing spooky & gory so just have fun with it. Here are some items to help you decorate this season!